Clubs & Athletics
NSYSU offers a plethora of clubs for students to choose from, ranging dance to music to sports. Students can also participate in the Intramural Sports offered by the university. For further details on the extracurricular activities at NSYSU, please visit the Clubs & Athletics Website.
---
Dragon Boat Club
Every semester, the IBMBA program participates in the Dragon Boat competitions hosted by Kaohsiung. The Dragon Boat team is not only a great way to get some good exercise, but also a great chance to meet students from around the world. Our international team, consisting of degree students and international students, consistently earn trophies in several different activities held at the competition while making some great memories at the same time. Check out the NSYSU Dragon Boat FB Page!
---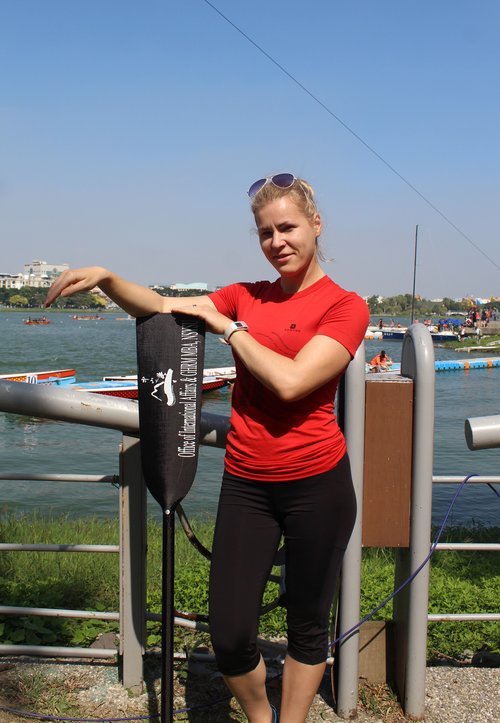 OLGA SAKHATSKAYA
Do you like challenges or to explore new things, to meet new people from different countries, or just like sports? Then the International Dragon Boat Team is for you! It will bring you a lot of fun, positive emotions, and make you healthier and stronger. Personally, it was one of the best things that happened in my student life at NSYSU. I met a lot of interesting people who I was training, racing with and achieved many goals and medal with, as well as celebrating our victories, birthdays and having dinner together. Here you will never be alone. It is a very exciting feeling when you work as one team and earn a gold medal at the end. Another beneficial thing is enhancing your skills in team work, understanding people from different cultures, which can be very useful in your future life and career.
---
VOJTA PAJER
I came to the first Dragon Boat training with really low expectations, partially forced by the presence of a few people I knew in the beginning of the exchange semester. But now, after finishing the last training, I am saddened that it is already over; I am now in much better physical shape and with many friends with whom I have had amazing memories with. Every track training was prepared in a way, that everyone, no matter whether it was an active sportsman or a person who had never done sports before, could participate and improve on. And you bet we did. Rowing practices were not that much fun in the beginning but eventually, once we learned the technique properly, it turned out to be great as well. It also made it easy to form groups for trips and events. I would recommend it to everybody who is doing an exchange in NSYSU.
---
MICHAL RÝZNAR
This dragon boat competition was really special for me. Overall, it is my second time participating in this club; last year as an exchange student and this time I was on the team as a master's degree student. It is interesting to observe that the only thing that changes are the people you are in the boat with. Everything else seems to remain the same like I remember from the last year… great atmosphere, many people and unforgettable memories. I really enjoyed the race and the trainings before the competition as well. I always felt extremely proud of being part of our school Dragon Boat team. All of us did our best and our performance was really good, despite the fact that we only had 2 months for practice. It is worthy to mention that most of the teammates touched the paddle for the first time in their life only one and half months before the competition…Yet, we ended in third place at the last competition, which can be considered as a huge success.
---
---